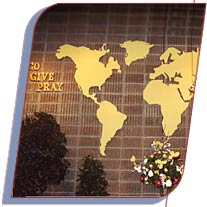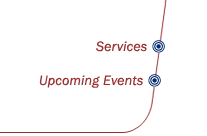 June, 2004 Vol. 5 No.6

Never let it be said, "there isn't much a 4th grader can teach us". This past week I had a 4th grader teach me and many others a lesson I hope we will never forget.
It's Sunday morning and I am locked in my office reviewing my sermon notes. After going over them, I open my office door to find one of those water cooler plastic bottles sitting in the middle of the outer office floor. Taped to the bottle is a note. This is exactly what the note said:
To: Pastor
This is the money that I have been saving to get an x-box. I hope theirs a lot in the bank. And i'am giving it to missions. And it is also my florida fund money. But I want all of it to go to missions.
It's my guess that there is at least $200.00 in the bottle. My eyes welled up, I longed to grab that kid and give him a big hug (after service I did just that), and my prayer was two-fold. "Father, bless this young one and Holy Spirit, teach us all to give so generously. I don't know how long it took this 4th grader to save this money, but he sat in our Mission's convention the two previous weeks and was touched by the need. Wow!!! An x-box! Spending money for his vacation to Florida! To a 4th grader, that is the widow's mite.
All those reading this article who are in 4th grade or beyond – what are we willing to give to spread the gospel of Jesus Christ around the world? The older we get, the more expensive the toys. The older we get, the more we convince ourselves we "need" those things. Well, I think we have just been taught a powerful lesson. I know there are a few "x-boxes" I don't really need. How about you?
The bottle is now sitting in front of the pulpit and will remain there until the end of this present Mission's season. The note is in the front of my Bible with all the missionary pledge forms we are not yet able to commit to. It will stay there for years to come. Even after we pick up the current list of missionaries on my waiting list, there will be others, and this note will be a reminder to keep God's priority as my priority. Got any plastic water bottles for the Kingdom?

New Converts. Our motto for this year is "Losing None" (Jn 6:39; 17:12). Our ultimate goal is 100% New Convert retention. January through May, there have been 6 first-time commitments to Christ. Currently, 4 out of 6 are being discipled in the Roots classes or in Sunday School. The other two have association with Resurrection, though they're not choosing discipleship. To date, we have a 67% keep ratio.
Recommitments. Seven people made a renewed effort to serve the Lord. Of those, 5 are currently being discipled in the Roots classes or through other small groups. That's a 71% keep ratio.
Guests. As of May 9th, I have recorded 15 families who live in the Syracuse area. (These are only the ones who submitted guest cards.) From those 15 families, we've kept 6 (13 people). We're not quite at 50% retention.
Why have the retention rates increased? (1) My Roots staff continues to do a great job. (2) We continue to be a friendly church, and that draws people. Hats off to our greeters, who each week set the tone. (3) This group of converts has been assimilated quicker into small groups. To our department leaders, I appreciate your quick response to the names I forward to you. (4) New Converts sponsors have kept a loving eye on their "charges."
Some recommendations to further increase these figures . . .
Awareness. If every one of us would make 4 phone calls a week, every person at Resurrection would be accounted for. Who sits in front of you each service? Behind? To the left and right? When you notice one of these people is absent, inquire.
Belonging. Let's help people do more than attend. Pastor's sermon series, "Moving from Friendly to Caring" is a great resource for you.
Communication. Never assume the pastors know. You'd be surprised how significant your piece of information could be. Call us when you become aware of things. Introduce us to your guests. Let us know when your friend is struggling. Drop us a line, using the tear-off section in the bulletin

We know it's important to focus on reaching the lost, but sometimes we struggle to really keep it a top priority. For some reason, it is difficult to consistently maintain the passion for souls and continually place high value on reaching those who don't know Jesus. Recently, while reading a number of great books on evangelism, I've compiled a list of "top ten ways to keep our hearts warm toward the lost." I trust as I share these with you each month you will be challenged, encouraged…..and warmed up!!!
HOW TO KEEP OUR HEARTS WARM TOWARD THE LOST
6. Follow God's Prompting
Evangelism can't always be planned! This is so true and we need to always be "prepared to give an answer to everyone who asks you to give the reason for the hope that you have." 1 Peter 3:15 This is where we need to ask the Lord to give us His eyes to see what He sees. He will, if we are open and willing, bring people into our path of life who don't have a relationship with Him!
We need to be led by the Spirit!! There's a big difference when we TRY to do it things ourselves or let the Spirit move through us.
We let the gifts of the Spirit move through us. The Gifts of the Spirit are found in 1 Cor. 12: Wisdom, Knowledge, Faith, Healing, Miraculous Powers, Prophecy, Discerning of spirits, Tongues, Interpretation of tongues. These have to be evident in our lives as we are witnessing to people if we want our witness to truly be effective and lasting. Every recorded witnessing event of Jesus (128) was accomplished by using at least one of the gifts of the Spirit. Many had more than one. Remember when Peter and John went to pray and they met the lame man who asked for silver or gold? They said, "Silver or gold I do not have, but what I have I give you. In the name of Jesus Christ of Nazareth, walk." That's Spirit led evangelism! Why not have that today?
Above all, Evangelism has to be soaked in LOVE. "If I speak in the tongues of men and of angels, but have not love, I am only a resounding gong or a clanging cymbal. If I have the gift of prophecy and can fathom all mysteries and all knowledge, and if I have a faith that can move mountains, but have not love, I am nothing. If I give all I possess to the poor and surrender my body to the flames, but have not love, I gain nothing. Love is patient, love is kind. It does not envy, it does not boast, it is not proud. It is not rude, it is not self-seeking, it is not easily angered, it keeps no record of wrongs. Love does not delight in evil but rejoices with the truth. It always protects, always trusts, always hopes, always perseveres. Love never fails." 1Corinthians 13

Praise the Lord we come up on a full year of offering FREE Computer Classes to the community. This next year we intend to offer even more course options! Besides computer classes, we want to offer other classes, seminars and services. We are looking at our community to see the needs the Lord wants Next Step to reach. Please pray and come to me with any ideas of the needs you see or hear of. I can be reached at the church office or at [email protected].
Finally, a huge THANK YOU to all of our computer class teachers! What a blessing you are to the Lord, our church and your community!
Blessings,
Pastor Joe Cyr
REZ "INNERNET" GROUPS
Smart Singles Bible Study
Friday @ 7:00 PM
Donna Graber 637-9169
"Heart Throb"
Exercise Class – Sunday, Tuesday, & Friday @ 6:30 PM
Church of the Resurrection,
For men and women
$1.00 per class fee
Bible Studies
Aaron's Garments/Bible Study
Tuesday @ 7:00 PM
Theresa Bettis' home
15 Trelign Dr., North Syracuse
458-2286
John
2nd & 4th Monday @ 7:00 PM
Carol Watkins' home
503 Nichols Ave., Syracuse
463-4504
Second Week of each month:
Monday Eileen Essi, 205 Arnold Ave., Syracuse, 422-2442
Tuesday Charlie & Marti Edgar, 126 Orvilton Dr., Dewitt, 446-2519
Wednesday Louanne Weeks, 194 Beechwood Ave., Liverpool, 451-5693
Friday John & Mary Wolf, 715 Oneida St., Chittenango, 687-3356
Chi Alpha Meetings – Syracuse University
Every Friday @ Archibald Building
Reach Out
An as-needed ministry to nursing homes and shut-ins.
Pat Bassett
488-8074
Sunday School & Thursday Family Night
Interactive classes for all ages
Cafe "Mundo" open before and after services
Church Office 656-7284
Youth JBQ & Bible Quiz
Sunday @ 6:00 PM in Chapel 6
Young Hearts – 50 years plus
Various meeting times
Contact the church office for calendar
Gateway (Young Singles 18 – 30 years old)
Sunday @ 9:30 AM, Gate House
Prayer Meetings
Sunday at 8:15 AM & 9:30 AM in the Upper Room 1
Tuesday at 6:15 AM at Steak and Sundae on Midler and James St. & 10 AM at the church
1st Tuesday United Prayer Meeting @ 7:00 PM
Thursday at 6:30 PM in Chapel 4

Jean Johnson – Missionary to Cambodia
Jean is our missionary to Cambodia. We have been supporting her since she first started on the field in 1992. She resides in Phnom Penh and serves as a representative for the USA Assemblies of God among the A/G International Missionary Team in Cambodia. She is also involved in translation projects, training programs, church planting/multiplication efforts, capacity building of the existing National Church, and other pertinent responsibilities. Her heart's desire and prayer to God for the Cambodians is that they may be saved. Please remember her in your prayers and also, if possible, send a card of encouragement to Jean Johnson, P. O. Box. 130, Phnom Penh, Cambodia.


Families that have teenagers or college students know those words all to well. Of course, as adults, we also have our own share of stress, but it is compounded when students are involved. Even to this day, my wife tells me that she can tell when I have something big coming up in the ministry or in life just by my stress levels.
With June here, stress for those with junior and high school students rises to a sometimes catastrophic level. There are these things called "Regents" that throws a normal, mild child into a nail chewing, snippy, edgy, nervous zombie.
Parents, there are some simple and practical things that you can do to help to ease the stress.
First and foremost, you must recognize the stress and the cause of it.
Since you know the stress is there, do all you can to not elevate the stress to a higher level. This does not mean your student gets everything he or she wants but you choose your battles wisely.
Educate yourself about the testing process. (How the tests are given and how they affect the overall grade). Then help your student to prepare accordingly. Give tips on how to get through tense test moments and how to relax.
And, of course they need strength and energy from a healthy meal and plenty of rest.
We all get nervous and feel stress in life, but I hope this may help to keep it within a healthy parameter!
Here 4 YOUth,
Pastor Terry

(Parents this section is for you to let you know of events coming up involving a cost more than $10)
Cedar Point: June 27-30 $125, $50 Non-refundable deposit due June 5th

For Cross Color Jam that Friends will hear and respond to God's gift of salvation!

Every Sunday night from 6-7:30pm in the Fellowship Hall.
June 5 Cross Color Jam Car Wash, 10-3 P
June 6 Cedar Point $50 Non-refundable deposit due
June 7 & 14 Shoot the Rock Sign-ups , 6-7 PM at Ellis Field in East Syracuse $7 Per Perso
June 21- July 26 Shoot the Rock League  – Monday nights 6-8
June 27-30 Cedar Point Trip.  Open to all youth, with the winning team going for free!
June 21-26 Monday Night "Shoot the Rock" Basketball League,  6-8 PM at Ellis Field in E. Syracuse
July 31 Shoot the Rock Final Tournament
July 5-10 Youth Camp
July 31 Youth Day 2004